15th April 2021
Introduction
While some photographers try to resolve the problem of capturing movement within a still image by freezing it, others prefer to leave a trace of movement within the frame.

OCA EYV (2014)
Within this research, rather than looking at the popular technique of freezing time for an image, I am looking at how a photography technique can reveal the passing of time. In this project, we see how photography has been used to reveal time instead of stopping it.

The three photographers and their technique that I am researching are Robert Frank, Hiroshi Sugimoto and Michael Wesely. I have chosen to focus on these three as they have their own distinct techniques of using the camera to show the passage of time. These techniques are motion blur and long exposure times.
Robert Franks
Robert Frank showcased a collection of controversial photographs in his book called 'The Americans' (1958). The images were perceived as controversial in the 1950's because visually they were not the norm in subject, technique or clarity. The pictures were in fact,
… dark, grainy and candid images of ordinary people: a couple sharing a motorcycle in Indianapolis, whites and blacks riding a segregated trolley car in New Orleans and a girl working an elevator in a Miami Beach Hotel.

Raz, G. (2009) Podcast for 'All Things Considered'.
The movement blurs within Frank's images were specifically chosen as a technique to employ for specific visual outcomes therefore they are creative rather than accidental. The blur in the famous 'Elevator Girl' (1955) shows how Frank composed the frozen bored looking elevator girl in between the motion blur of the passengers that are exiting the lift.
About the 'Assembly Line' (1955) below, shot at Ford's River Rouge plant in Dearborn Michigan, Frank remarked, "I went to Detroit to photograph the Ford factories, and then it was clear to me I wanted to do this. It was summer and so loud. So much noise. So much heat. It was hell. So much screaming." (Frank, R. (s.d.)cited in Maher 2017).
I particularly like the Assembly Line image above because the composition and subject matter give a feeling of the cramped working conditions and the dark grain gives a heavy atmospheric quality to the information that I see. To add to the atmosphere and composition, Frank's blur technique gives a sense of movement to the worker's bodies which adds to the frenzy that I both see and experience. The image in fact is very thought provoking because to me personally, I am mentally connecting to the different visual stimuli which makes this image almost come to life.

I would love to see the whole book, 'The Americans' as only a few of his popular images are found on line and I would like to access the content how Frank wanted the readers to his book to see them in a specific order.

Images
Fig. 1 Frank, R. (1955) Elevator — Miami Beach. [Photograph] At: https://www.npr.org/2009/08/30/112389032/robert-franks-elevator-girl-sees-herself-years-later?t=1619180222184 (Accessed 23.04.21).
Fig. 2 Frank, R. (1955) Assembly Line. [Photograph] At: https://www.jamesmaherphotography.com/new-york-historical-articles/the-foreigners-road-trip-robert-franks-america/ (Accessed 23.04.21).
Bibliography
Websites
Maher, James (2017) A Foreigner's Road Trip – Robert Frank's America. At: https://www.jamesmaherphotography.com/new-york-historical-articles/the-foreigners-road-trip-robert-franks-america/ (Accessed 25.04.21)
Other Sources
Robert Frank's Elevator Girl Sees Herself Years Later (2009) [Podcast] National Public Radio. At: https://www.npr.org/2009/08/30/112389032/robert-franks-elevator-girl-sees-herself-years-later?t=1619180222184 (Accessed 23.04.21).
---
25th April 2021
Hiroshi Sugimoto
Theatres

I'm a habitual self-interlocutor. One evening while taking photographs at the American Museum of Natural History, I had a near-hallucinatory vision. My internal question-and-answer session leading up to this vision went something like this: "Suppose you shoot a whole movie in a single frame? " The answer: "You get a shining screen. " Immediately I began experimenting in order to realize this vision. One afternoon I walked into a cheap cinema in the East Village with a large-format camera. As soon as the movie started, I fixed the shutter at a wide-open aperture. When the movie finished two hours later, I clicked the shutter closed. That evening I developed the film, and my vision exploded behind my eyes.

Sugimoto, H. (2021)
I think that the concept and the end result is absolutely brilliant. If you come across these images without knowing the concept then as a viewer to the work you contemplate the beautiful architecture and how the bright light from the cinema screen highlights certain parts of the theatre giving such strong patterns, lines and shapes. The abstract feel to the compositions are strong enough with the title 'Theatres' to grab the attention of the viewers but when coupled with the knowledge of the concept behind the images they take on a whole new meaning.
If I look at the 'Theatre' images conceptually not only am I admiring the visual contrast of light and dark, and the highlighting of the shapes, lines and patterns produced by the architecture and seats but I am considering how the passing of time has influenced the images meaning.
I begin to acknowledge what passed through the lens and became invisible because of how time has been caught by the camera on a 'B' setting. People have sat and watched a film and then moved across the picture plane, their existence wiped by time. The film that was caught by the camera while the shutter was open become pure light, it also has vanished in time. It is such a thought provoking concept, how time and movement can be lost and forgotten, we know they both existed in the theatre shots but they have become invisible.
This is when concepts strengthens images and inspires the viewer to look beyond the visible within a composition. The viewer is able to acknowledge what they can see visually yet they are encouraged to connected with hidden information at a deeper level.
Illustrations
Fig. 1 Sugimoto, H. (2021) Theatres. [Photographs] At: https://www.sugimotohiroshi.com/new-page-7 (Accessed 25.04.21)
Bibliography
Websites
Sugimoto, H. (2021) Hiroshi Sugimoto: Theatres. At: https://www.sugimotohiroshi.com/new-page-7 (Accessed 25.04.21)
---
Michael Wesely
German photographer Michael Wesely used even longer exposures of between two to three years in his documentations of the renovation of the Potsdamer Platz in Berlin and the Museum of Modern Art in New York.

OCA EYV (2014)
Reminiscent of Alexey Titarenko 's long exposure works, which can be found on the blog post, Alexey Titarenko: City of Shadows, Wesely's images take hours to many years to capture. In his work time is captured showing the viewer the past and present in great detail in the ghost like transparent layers that coupling of time and camera has built together. These layers show a changing history, seasons and even contain the suns movement which can be seen in the streaks in the sky in the image below.
Although Wesely's architecture images are intriguing, thought provoking and an awe to study with spaces changing content and showing us lines of the building construction in progress, it is Wesely's time images of people and crowds that I am very inspired by.
Architecture
Portraits and Crowds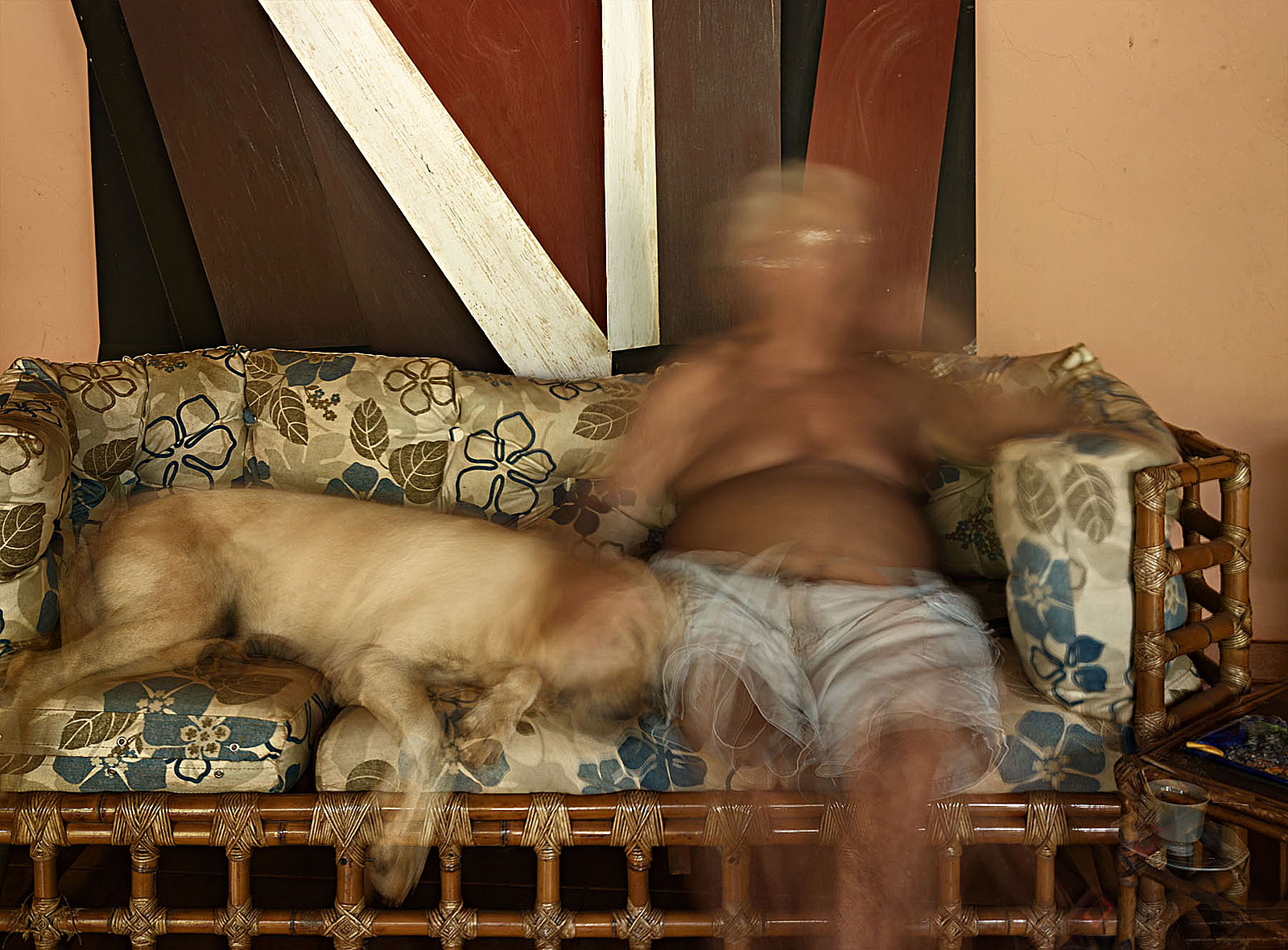 The above two images have small exposure times of minutes compared to other Wesely works of hours, days and years. I am fascinated with these images and other images Wesely has produced with people within them
The crowd shots are very like Titarenko's, however Wesely's images are in colour and unlike Titarenko's we are left with visual ghost forms where the viewer can track movement by following the forms movements.
For me personally, it is the individual portrait shots that I am in favour of. These photographs bring portraits alive, instead of sculptural poses that are still and in one moment, these images show the passing of time and the movement of the subject no matter how slight.
Illustrations
Fig. 1 Wesely, M. (2001-2003) The Museum of Modern Art. [Photograph] At: https://birdinflight.com/inspiration/experience/time-shows-ultra-long-exposure-in-works-of-michael-wesely.html (Accessed 25.04.21)
Fig. 2 Wesely, M. (2015) Gilberto Chateaubriand. [Photograph] At: https://wesely.org/2019/gilberto-chateaubriand-17-03-17-39-uhr-2-1-2015/ (Accessed 26.04.21)
Fig. 3 Wesely, M. (s.d.) Avenida Paulista. [Photograph] At: https://www.flickr.com/photos/sescsp/35458493304/in/photostream/ (Accessed 26.04.21)
---
Conclusion
These three photographers have approached the concept of representing the movement of time through the use of long shutter times and/ or the inclusion of blur within their images.
The subject matters they have chosen are varied from the construction of architecture which shows various stages of a building being constructed and the changes in the environment around it which includes the sun's movements, people and the movement of a film through time.
Each area is thought provoking and captures time in such a way that viewers are able to acknowledge changes that have occurred within minutes, hours, days, months and years.
Can this concept be extended in anyway? For me I would like to develop these techniques three-dimensionally so that the movement becomes shapes and forms which the viewer can walk around. This would make the images sculptural and provide physical interaction to work with the viewers eyes and cognitive responses.
Another concept for me to ponder and hopefully approach within the degree I am studying on with the OCA.
---